New Mirror Glass Old World Charm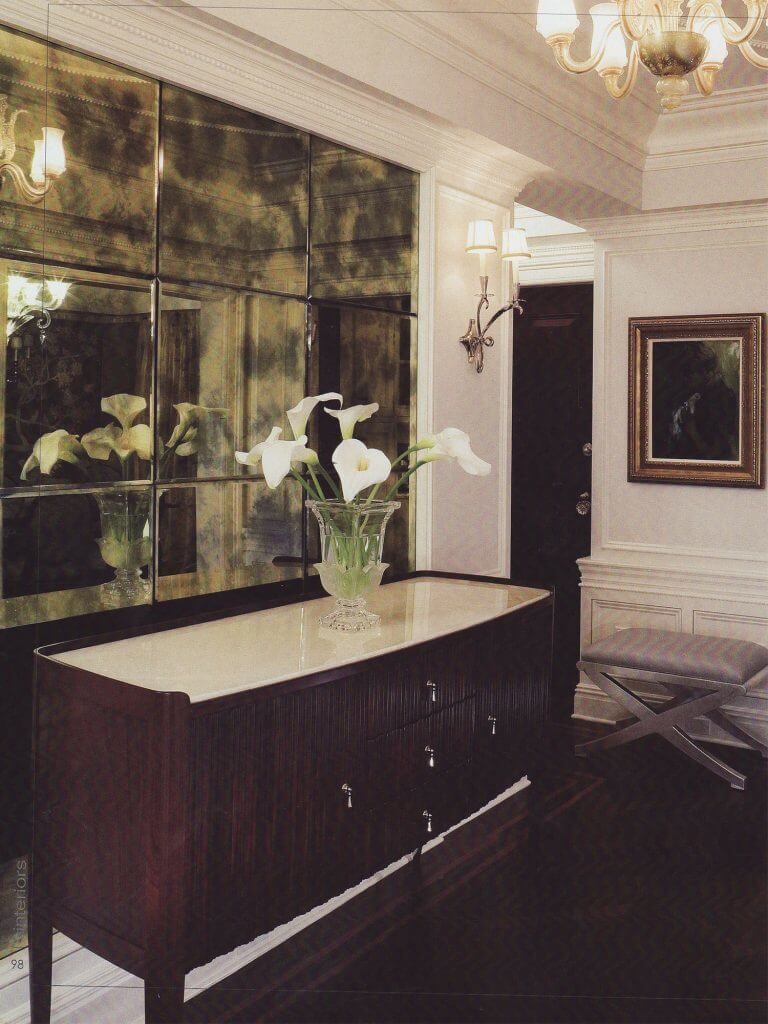 New Mirror Glass Old World Charm
Add a reflection of elegance to your room with a Classic Antique Mirror. Open up your space with light and the character of a more refined time. Make a unique decorative statement and project an air of luxury with the highest-quality antique decor mirror customized to fit your specific needs. Our vintage mirrors start with brand new glass that we then hand-silver to reproduce the patina of the looking glasses that adorned the grandest chateaus from centuries ago.
Architectural Applications

Backsplashes | Framed | Featured Walls | Bathrooms | Kitchens | Furniture Inlays | Shelves | Fireplaces | Countertops | Doors Cabinets | Wardrobe Doors | Refrigerators | Ceilings | Drawers | Elevators | Foyers | Lobbies | Hallways | So Many More...

Popular In

Homes | Offices | Restaurants | Bars | Hotels | Commercial Showrooms | Retail Businesses | Casinos | Spas | So Many More...

Customers

Homeowners | Businesses | Architectural Supply Houses | Designers | Glass Shops |  Furniture Makers | Cabinet Makers | Hospitality Supply Companies | So Many More...
Custom Cut To Your Exact Specifications

Custom Cut To Your Exact Specifications

Classic Antique Mirrors are diamond cut from our standard 48"x 96" panel sheets to fit perfectly in almost any shape and size you need, even if your space is not truly plumb. Need notches or cutouts for electrical outlets or wall sconces? No worries; our measurements and scoring are precise.

All of our many antique styles in 1/4" thickness are kept in stock for quick customization and shipping to your location. Available mirror thicknesses range from 1/8″ for light weight cabinet doors up to 3/4″ for counter tops. For those large spaces, we provide antique mirrors in full-sized 4′ x 8′ sheets. If your project calls for a decor mirror larger than 8 feet, please contact us to learn about our oversized antique mirrors.

9 Fabulous Antique Styles
9 Fabulous Antique Styles
Choose the vintage mirror patina that matches your design plans from our wide selection of distinctive patterns. Why settle for an ordinary mirror when you can easily showcase sophistication and your style? All of our antique decor mirror patterns are in stock and ready to be cut to your specifications.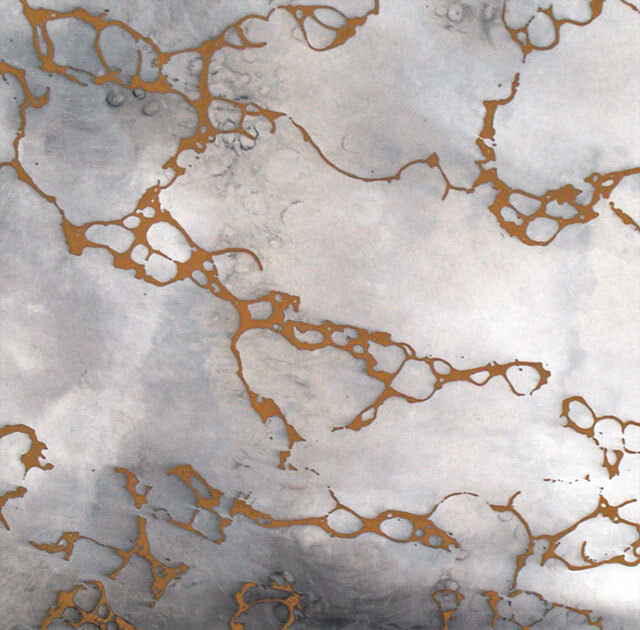 The classic gold veining effect can be added to any of our styles. [Pictured here is an example of gold veining added to the #3 Cosma style.]
Shipped Anywhere. Nationally or Internationally.
You can be sure that your Classic Antique Mirror will be securely packaged and quickly shipped direct to your address.  Before placing your order, you can request a 6" square sample of your chosen mirror style to be shipped to you, so you know exactly what you will be ordering. Please include your complete shipping address for an accurate shipping quote.
Nationwide Network
Our mirrors have been installed across the nation and internationally with ease by your  local installer.
​Juneau, AK​

San Francisco, CA (Rohnert Park)

Costa Mesa, CA

Orange County, CA (Yorba Linda)

Santa Cruz, CA (Soquel)

​​​Denver, CO

Gypsum, CO

New Haven, CT (Shelton)​​

Orlando, FL

Tampa, FL

Jacksonville, FL

Lake City, FL

Atlanta, GA (Atanta/Kennesaw)

Macon, GA

Des Moines, IA

Chicago, IL (Crystal Lake)​​​​

West Monroe, LA

Boston, MA (​​​Littleton)

Worcester, MA (Whitinsville)

Amherst, MA​​

Baltimore, MD

St. Louis, MO (Chesterfield)

Bozeman, MT

Charlotte, NC

Albuquerque, NM

Reno, NV (Sparks)

Rochester, NY

Dayton, OH

Columbia, SC

Saskatoon, SK, Canada

Chattanooga, TN

Houston,TX

Dallas, TX

Houston, TX (Katy)

Austin, TX (Austin/Marble Falls)

San Antonio, TX

College Station, TX (Bryan)

Midland, TX

El Paso, TX

Bassett, VA

Seattle, WA (Bellevue)

Green Bay, WI (Appleton)

Madison, WI (Middleton)
Wall-mounted antique mirrors can be installed with clips or installed permanently with quality mirror mastic. We recommend Gunther Ultrabond mirror mastic.
Mirror Tile Installation Instructions
Before you begin installation, lay out the mirror tiles to see which ones you want where. The mirror pattern varies going across a 4' wide sheet. The individual tiles will not vary much going across them, but the tiles themselves will vary widely because they are all cut from different places within the full sheets. You may want the tight pattern near the top or bottom of the wall. You might like the patterns totally jumbled up. Opinions vary

After that, mark the high spots on the wall. You can use a 6' level or any long straight edge. Scrape the wall with the level or straight edge while marking the high spots on the wall. Mastic should be applied in golf ball size blobs so they can be squashed to the level needed. Do not put the mastic on the high spots. That will make them even higher and you will not be able to squash the mirror down flat with the ones around it. Sometimes the mirrors need to be held away from the wall in the low spots. Wood shims work well on this. You can break the shims to where they are the correct thickness and stick them half way under the mirror so they are sticking out. Now you can apply and squash the mirror down next to it to exactly the same level because the wood shim is sticking out revealing the needed level.
Handcrafted & Painted in USA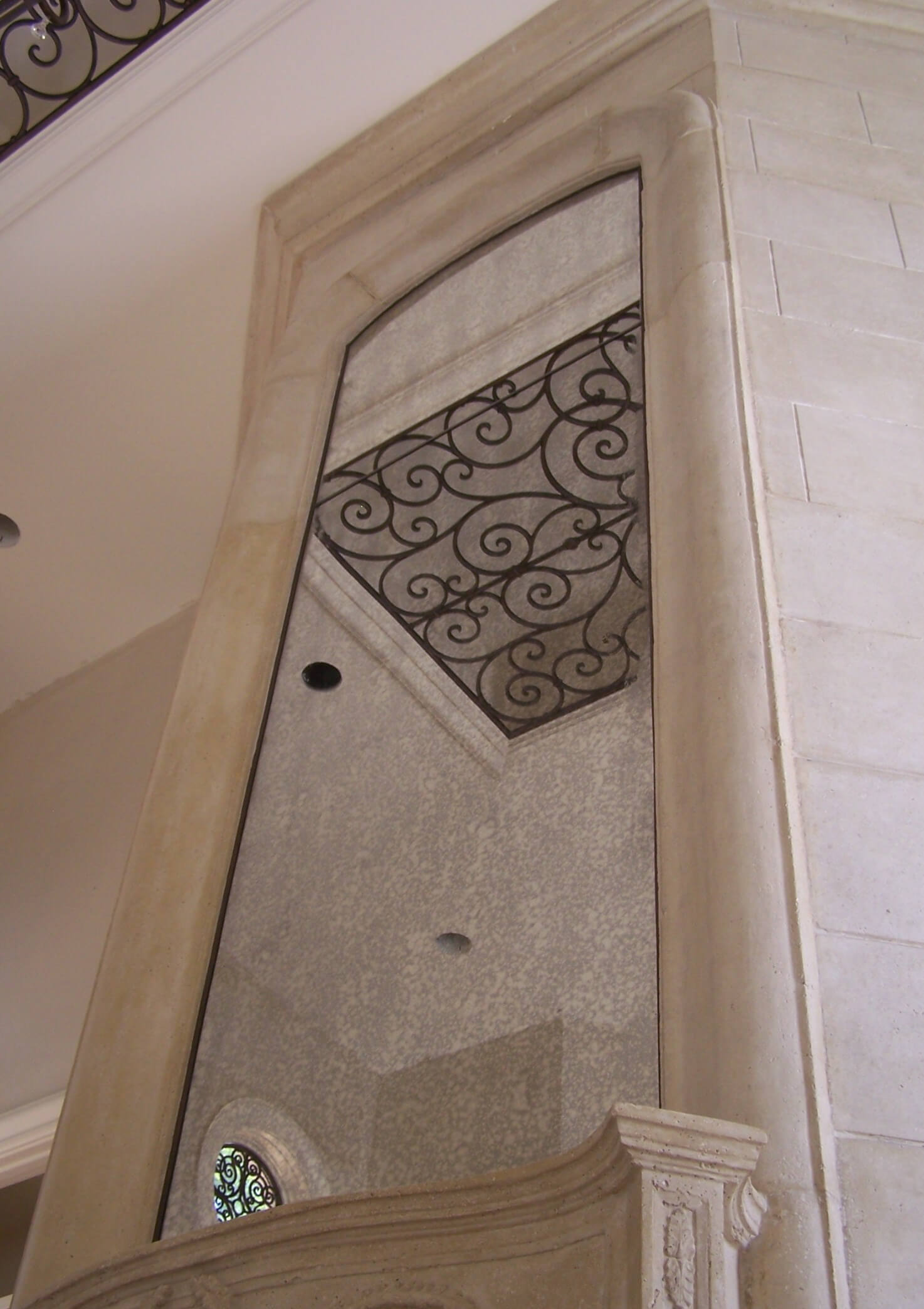 Handcrafted & Painted in USA
Our mirrors are cut to your exact specifications and they can also be shipped in full sheets. All of our antique decor mirrors are handcrafted and hand-painted here in America using silvering techniques passed down for generations. There will naturally be some variations to the patterns from sheet to sheet. This benefit prevents large wall mirrors from looking like wallpaper. For customers needing an added measure of safety, we offer safety backing and tempering of our mirrors, which is recommended for counter tops and required of elevator mirrors. Ask us about our antique mirror etching and sandblasting to integrate your logo or stylish imagery into the glass itself.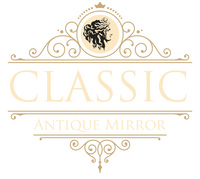 We are a premier purveyor of custom-cut antique decor mirrors to residential and commercial customers across America and around the globe. 

Classic Antique Mirror is owned and operated by SGO Designer Glass of Chattanooga. In addition to the finest custom-cut antique decor mirrors, our parent company specializes in the custom design and professional installation of many other forms of decorative glass and mirrors.
Frameless shower enclosures
Sandblasted glass
Glass Etching & Carving
Custom mirrors
Stained glass overlays
Molded & textured glass
Iron Art
Special glass projects

SGO Designer Glass of Chattanooga works with homeowners, businesses and contractors throughout the TN/GA/AL tri-state area to realized their unique architectural and decorative glass visions.  When you call SGO Designer Glass, you can expect the highest quality glass products, unsurpassed workmanship and an accommodating, respectful team of specialists.


100% Satisfaction Guaranteed
Professional & Experienced